Social Media Project
မင်္ဂလာပါဗျ
အားလုံးပဲ ကျန်းမာနေကောင်းဘေးကင်းကြမယ်လို့ မျှော်လင့်ပါတယ်..
yIGF-Myanmar အနေနဲ့ yIGF-Myanmar 2022 ဖိုရမ်မှာ ဆွေးနွေးမယ့်ခေါင်းစဉ်တွေအတွက် မြန်မာလူငယ်တွေရဲ့ အကြံပြုချက်တွေကို တောင်းခံနေပါတယ်ဗျ။ အဲ့ဒါကြောင့် ဖေဖော်ဝါရီလ၊ ၂၅ရက်နေ့ ၊ ည(၁၁)နာရီ (၅၉)မိနစ် မတိုင်ခင် ဒီဖောင် - https://forms.gle/ABykSLDZJKZgw2JC7 မှာ လူငယ်တို့ရဲ့ အကြံပြုချက်တွေကို ဖြည့်ပေးရင်း လူငယ်တို့ရဲ့အသိမိတ်ဆွေ သူငယ်ချင်းတွေဆီကိုလည်း မျှဝေအရောက်ပို့ပေးကြပါဦးဗျ။….
Hello Myanmar Youth!
---
Misinformation, Disinformation and Ways to Fact-Check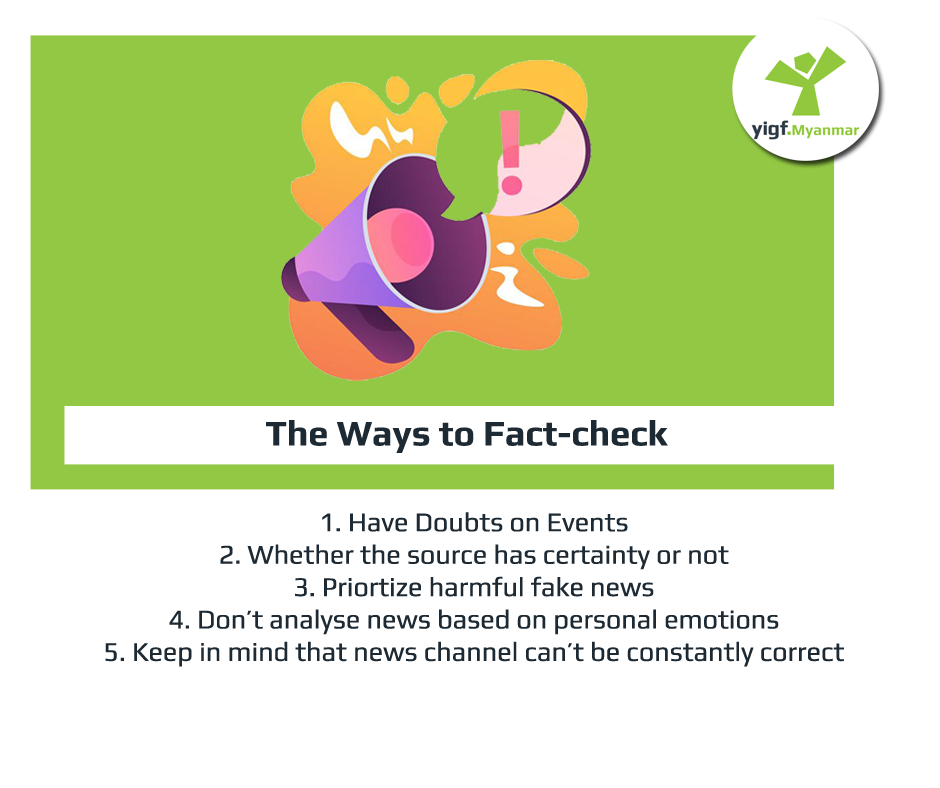 Contributors : Luisk, Bo Tauk, Moon, Ri Na
Nowadays, social media platforms are widely used as information sources. As various news is popping up, fake news has become a part of our daily life. Sometimes, the truth is even covered by them. In such situations, it is quite difficult to distinguish between fake news and facts. Both disinformation (which are purposely distributed) and misinformation (which are unintentionally distributed) can be seen, especially in our virtual life. Indeed, they are like toxins to people, manipulating them. That's why it is very important to avoid these toxic fake-news. 
Here are some tips for fact-checking to avoid these fake news and not to misinform 
Have doubts on events
We ought to be cautious about all news (photos, status, videos) and always question its possibility.
---
Myanmar Spring Revolution & Internet Culture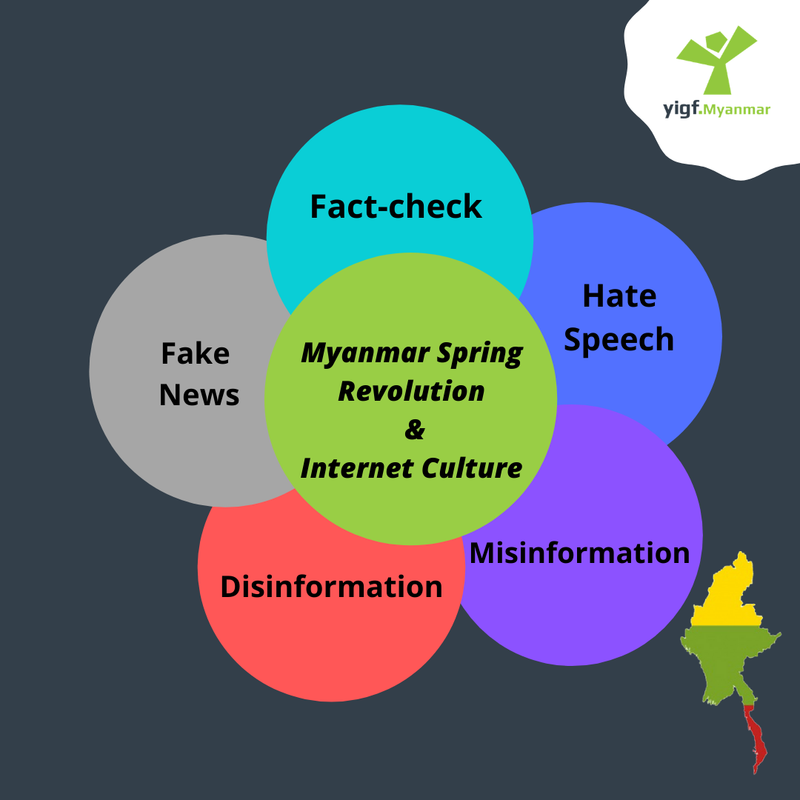 Contributors : Bo Tauk, Moon and Ri Na
From #SpringRevolution to #InternetCulture
We, #Myanmar, have been in the dark since February 1, 2021 along with the uprising of the military dictatorship. At the end of winter and the beginning of summer, the spring revolution erupted at the same time. Anti-military protests have been spreading like a wildfire across the country.
Among many revolutions that have taken place in the history of Myanmar, the 2021 Spring Revolution is a remarkable milestone in the integration of modern youths and modern technology. As the 21st century approaches, the importance of technology has kept the Spring Revolution going.
Due to the Internet, real-time information can now be shared easily from East to West of the world. The opportunity to express everything happening all over Myanmar on a daily basis to the world is a huge benefit of the fastest growing internet and technology.However, the internet which is the main communication channel was cut off in the country step by step in a short time, in order to stop the flow of information. No one can deny that this situation, in turn, is a ploy to increase misinformation and blackouts.
Despite these difficulties, our people have overcome them and strengthened their awareness of what can be called an Internet culture. We have been providing each other, especially to those who have internet problems,
to get the right information,
to #FactCheck for controlling the spread of #misinformation, #disinformation and #FakeNews, and
to educate as much as we can to prevent false information and #HateSpeech
---
Is independent internet access a human right?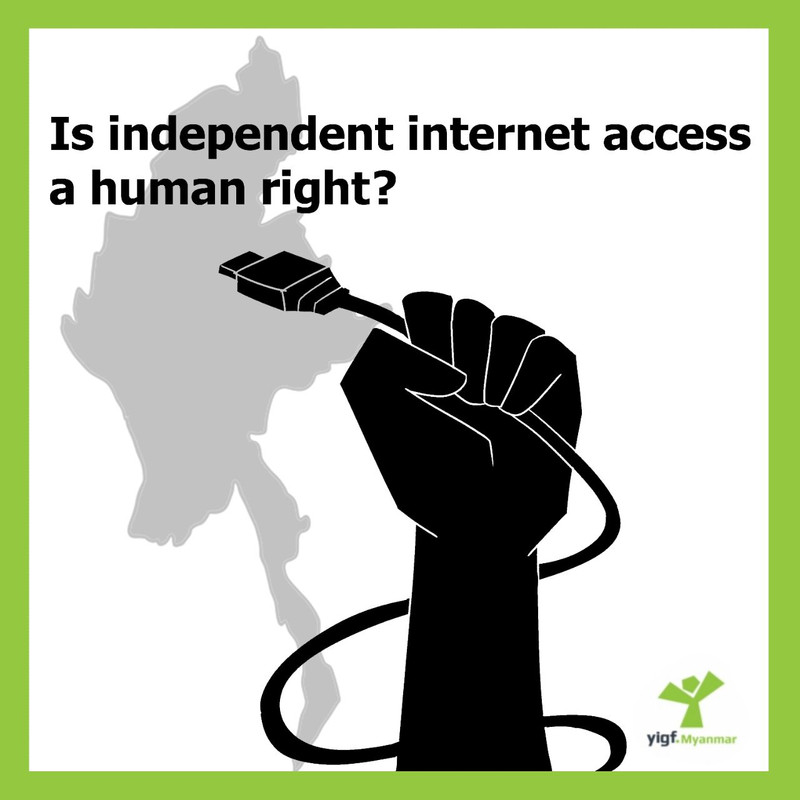 Contributors : Jeremy, Moon and Pyae
Is independent internet access a human right?
How is the internet related to Human Rights?
Human rights are rights that a person has from birth to death regardless of gender, race, religion or languages. Every right is a must to be maintained and not to be violated under any circumstances. It is also enshrined in the European Convention to protect the rights and freedoms of Internet users. Freedom of speech and expression, access to information, the right to protection from misusing our personal data and cybercrime are just some of the Internet rights that every internet user has.
Is Internet access a human right?
We would like to explain this common question based on three points.
The state has the responsibility to formulate Internet policies to ensure that the Internet is accessible to all and people have the freedom of speech, expression.
Today, the Internet is an essential medium for expressing opinions of individuals. Indeed, it can be considered as the reflection of the standard of a person and the same rights that people have offline must also be protected online.
However, international law of human rights states that there should be some restrictions on the flow of information on the Internet due to the increasing number of fake news and manipulation especially on social media.
---
Amendments to the Electronic Transactions Law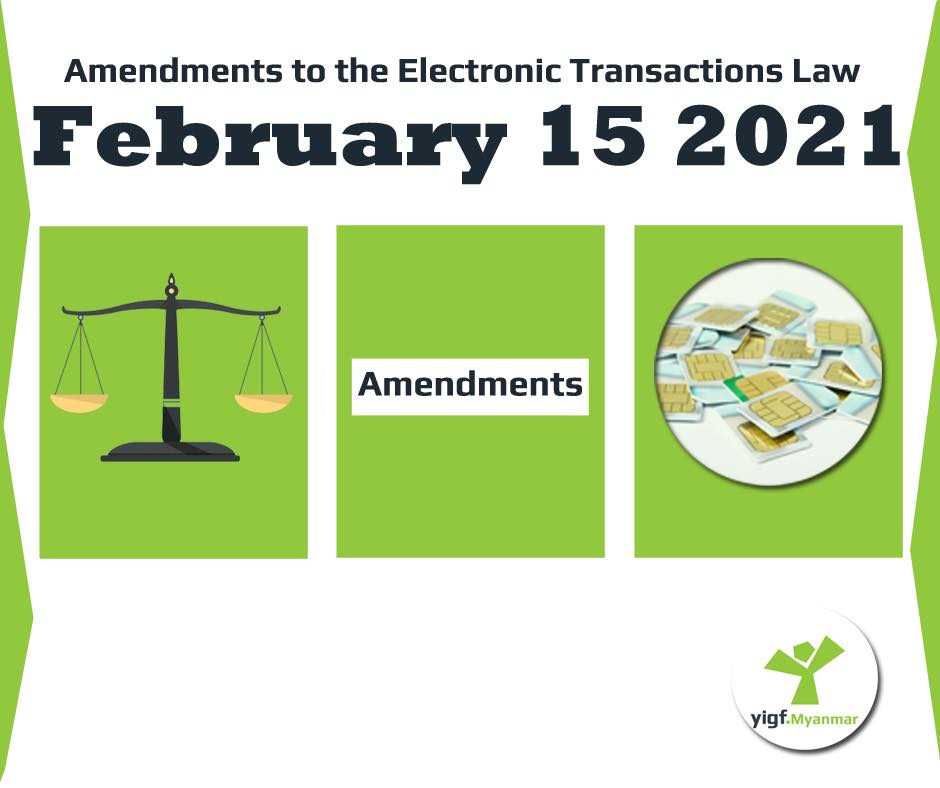 Contributors : - Ri Na and Moon
Additional restrictions points over Electronic Transaction Law (ETL) Amendment on February 15 2021 & Dark Age 
On February 15 2021, state television announced the adoption of the Electronic Transaction Law (ETL) amendment. Just days before, a draft Cyber Security Law was proposed. Nonetheless, due to much public criticism, only the amendment of ETL had been prescribed. This article will summarize the following main additional facts which are included in the Electronic Transaction Law (ETL).
In this amendment ETL,
I​f a person responsible for managing personal data is convicted of failure to manage personal data in accordance with the provisions under this law, he or she shall be punishable by imprisonment for a term of 1 to 3 years, or a fine not exceeding 100 lakhs, or both. 
Any person, if convicted of obtaining,disclosing,using, destroying, modifying, disseminating or sending personal data of a person to another without approval, shall be punishable by imprisonment for a term of 1 to 3 years, or a fine not exceeding 50 lakhs, or both. Any person, if convicted of creating misinformation and disinformation with the intent of causing public panic, loss of trust or social division on cyberspace, shall be punishable by imprisonment for a term of 1 to 3 years, or a fine not exceeding 50 lakhs, or both.
---