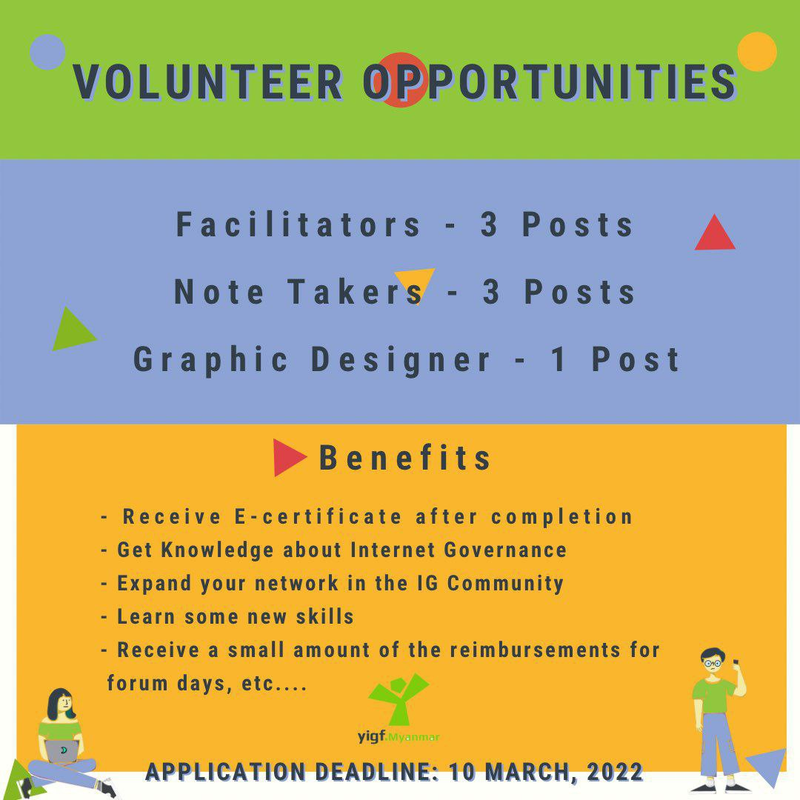 "Virtual Volunteer Opportunities"
yIGF-Myanmar အနေနဲ့ လူငယ်စေတနာ့ဝန်ထမ်းများကို ဖိတ်ခေါ်နေပါတယ်။ စေတနာ့ဝန်ထမ်းများအနေနဲ့ ဖိုရမ်ကျင်းပတဲ့ ကာလမှာ အဓိက ကူညီအားဖြည့်ပေးရမှာ ဖြစ်ပြီး တစ်လကျော်ကြာ yIGF-Myanmar နဲ့အတူ ဖိုရမ်ဖြစ်မြောက်ရေးအတွက် လက်တွဲကူညီဆောင်ရွက်ပေးရမှာ ဖြစ်ပါတယ်။
အသေးစိတ်ကိုတော့ ဒီလင့်ခ်မှာ -> Link မှာ ဝင်ရောက်ဖတ်ရှုပြီး လျှောက်ထားနိုင်ပါတယ်။
(English Version)
➡️ Responsibilities overview
Active, accountable and full participation in virtual meet-ups ( weekly)
must have commitment for assigned tasks Enthusiastic participation in Youth Internet Governance Forum in Myanmar in April
Have to promote yIGF-Myanmar Forum information to Myanmar youth online community
➡️ General Requirements
Must be age between 18- 30
Must be punctual, flexible and be able to communicate with other volunteers and youth committee members
Must have interests in the movement to build inclusive digital world and Internet governance related issues
Must respect and maintain yIGF-Myanmar's Code of conduct
Computer skills and English proficiency are desired but not necessary required
Alumni of IGF-related programs are preferable.
➡️ Benefits
Receive E-certificate after completion
Get Knowledge about Internet Governance
Expand your network in the IG Community
Learn some new skills
Receive a small amount of the reimbursements for forum days, etc....
"Virtual Volunteer Opportunities"
Find more about the volunteer positions
Please feel free to contact us via
➡️ [email protected] for any enquiry.
If there is any technical problem, feel free to contact us.
Connect with us on Social Media
#yIGFMyanmar ##VirtualVolunteerOpportunities #YouthInternetGovernanceForum #Myanmar